When it comes to doing real meaningful things there are no recipes and no shortcuts.
Whatever endeavour you take, you will face tough times.
Don't judge, dare to seek out knowledge. That includes getting to know people too.
Get people inspired. Work to help others and people will work to help you.
Look at the world through several prisms. That will help you to separate the facts from fiction.
Figuring out the right product is the innovator's job, not the customer's job. The customer only knows what she thinks she wants based on her experience. The lesson we get from this is that if people knew what they wanted, we would be having technological improvements on a massive scale.  Thanks to the internet we are, but we still need a long way to go. So don't worry, what you wanted to create is already in the market. Make a better version of it.
If something feels worth doing, do it. Regardless whether you have a one in ten chance or a one in a thousand.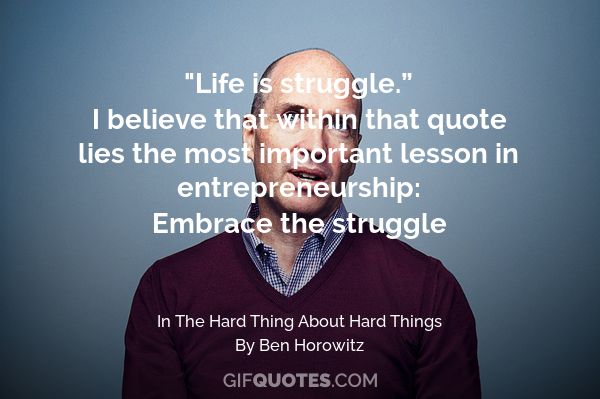 Want to know what it takes to be a great CEO? Make a move when there are no good moves or create a move when everything is fucked up.
At least in the technology game if you survive long enough to see tomorrow, you might just make it. There are many lessons here but personally I don't have the experience to see them. So what I'm getting at is that you should always have some money to fall back on. Spend a million? No problem, just make sure you still have enough to see tomorrow.
Companies that survive and thrive are the ones that deal with problems in the open. They encourage people to share bad news. The quickly a problem is dealt, the better. Encourage people to bring problems.
If ever you find yourself in the position of firing people, then you need to read this book. No way around it.
If you are running a company that has to fight to stay afloat every year then should you really exist?  Imagine facing this dilemma yourself. You had a dream, you gave it life. And now you have to watch it suffer.
Don't waste your energy worrying. Waste it on solving a problem. If the company is dying then fuck everything. The only thing that counts is your team and your balls.
Running a company? Train your employees. Making a profit? Train your employees. Going in loss?  You should have trained them.
A CEO doesn't have many friends. So in times of a crisis, who should you turn to? People who've been CEOs of course. A CEO doesn't have many friends because not everyone has had the CEO experience.
When hiring focus on IQ. Focus on ambition first. If you had started a company, it means your drive is more than your IQ. If you want a great company, hire great people. Hire people with dreams of their own so that they can work harder in achieving them and in turn make you a lot of money. Hire people who have broader goals so that they will leave your company and talk good about you. In s People who will talk good about your product. In summary, if you want a world class company, then make sure you have a world class team.
PR is key. World class PR can turn shit into sugar.
There are no great CEOs. Every CEO is great for the company they have created because a company is a reflection of them. Zuckerberg is great for Facebook but won't be for Oracle.
When things get the toughest you are forced to face an irrevocable truth; yourself. The most a person can learn from a adversity is about himself.